The glass and ceramic manufacturing industries are steeped in craftsmanship and employ highly skilled labour. They have also modernized over the years, introducing more and more automation in order to boost production capacity.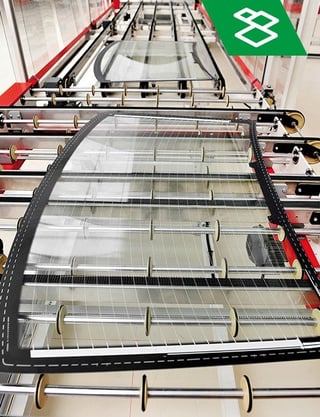 The machines involved in glass and ceramic production processes must be able to operate with only a minimum of down time for maintenance and repairs. This can only be achieved through the use of reliable, high performance drive systems capable of guaranteeing the continuous production needed to satisfy demand, that can be adapted and customized (for more information see article System customization thanks to the modularity of gearboxes).
Thanks to the range of technologically advanced, reliable and easily implemented reducers in the various automatic solutions, Varvel is the ideal supplier for machinery manufacturers for the glass and ceramics industries. Varvel's high-tech gearboxes are extremely achieved and ideal for applications in process automation. Varvel is therefore the preferred supplier to many constructors of production machinery for the glass and ceramic industries.
Varvel's drive solutions provide the perfect response to market needs in terms of
increasing globalization,

stricter environmental standards,

rising energy costs,

the growing emphasis on social responsibility in the manufacturing sector.
The quality and characteristics of the gearboxes required in these sectors
Varvel's advanced Italian technology is highly acclaimed for many applications in these sectors, including
end-of-line sorting for ceramic tiles
surface grinding

and

polishing,

glass processing
brick

and

roof tile drying
Last but not least, nearly all the products in the Varvel range are available in ATEX versions that conform to European directives governing the use of plant and machinery in potentially explosive atmospheres, so
safe equipment even in potentially explosive atmospheres
flammability limits
resistant to high temperatures
Types of gearboxes applicable
An excellent example of the products involved in these sec- tors is the RG series of planetary gearboxes with reduced backlash. Their main features are precision, efficiency and lack of noise: thanks to the reduced backlash and increased reliability, gearboxes of the RG series allow specific settings for exact positioning and are used in precision machinery.
Some of the most usual applications are end-of-line sorting for ceramic tiles, surface grinding and polishing, glass processing, brick and roof tile drying. The glass and ceramic industries also extends widely to other types of Varvel gearboxes, such as RS/RT Series worm gearboxes, RN Series parallel shaft gearboxes, RD Series in-line helical gearboxes, and 3 stage in-line bevel helical gearboxes and 3 stage right angle bevel helical gearboxes, respecti- vely RO and RV Series.