The choice of speed reducers (also called "gear reducers") in the ceramics industry should consider that this manufacturing process is steeped in craftsmanship, especially in terms of skilled and highly specialized workforce.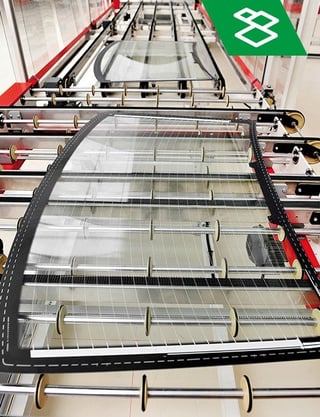 With time, the glass and ceramics industry has undergone a series of evolutions and modernizations, with the introduction of internal automation solutions that have given rise to a significant increase in production capacity. The main guarantee currently required for the machinery used in the ceramics manufacturing process is the ability to minimize downtime for equipment maintenance and repairs.
Therefore, the production lines must count on reliable and performing equipment that can ensure the constant flow necessary to satisfy the requirements of an increasingly demanding market.
Likewise, it is crucial that such machines can be adapted and customized: you can find out how you can customize your device thanks to the modularity of Varvel's speed reducers by reading our in-depth analysis.
Varvel: the machinery manufacturers' partner in the ceramics industry
Thanks to its range of reliable and technologically advanced gear reducers, easily implementable in various automatic solutions, Varvel is the ideal supplier for machinery manufacturers that operate in the ceramics industry.
Varvel's gear reducers are extremely popular in this sector because they are designed for applications typically used in process automation. Varvel is, therefore, the preferred partner for numerous brands that manufacture equipment for ceramics and glass processing.
Varvel's drive solutions offer the perfect answer to different market needs in terms of:
Stricter environmental standards
Effective responses to the increase in energy costs
Growing emphasis on social responsibility in the manufacturing sector
Typical applications of this industry, that sees Varvel stand out for the Made in Italy quality of its gear reducers, include:
End-of-line sorting for ceramic tiles
Surface grinding and polishing
Brick drying
And many other production processes.
Varvel's worm gearboxes in ceramics processing
Varvel's series of worm gearboxes is available in different types and is an ideal solution for the ceramics industry:
Single-stage
With cylindrical pre-torque
Two-stage
These gearboxes have a maximum power of 25 kW and reduction ratios ranging from 5:1 to 10,000:1, while their output torque is expected to be around 3020 Nm.
The worm screws that Varvel offers to the ceramic sector have a standard ZI profile and are generated with a shaped wheel to ensure maximum angular precision in the motion transmission.
Other product features include:
Standard Freudenberg sealing rings
Standard Klueber PG oil
High-quality, low backlash CM spindle bearings
Reduced mesh backlash, less than 25' as standard
Controlled reduced play on request
FKM low-friction Freudenberg sealing rings on request
Optional vent plug
Varvel's "made to stock" production ensures maximum speed in delivery times and, consequently, absolute reliability even at peak times.
Finally, it is important to remember that the elastic coupling developed by Varvel for the connection between gearboxes and motors (IEC, NEMA, BRUSHLESS, STEPPER) is an advanced and flexible solution to be used as an alternative to traditional coupling with key – all without any increase in the gearbox's total size.
Even installing different types of motors is simple and intuitive: all you need to do is replace the attachment flange with one of the over one hundred servomotor models currently available for installation on Varvel gearboxes.
Other types of gearboxes used in machines for the ceramics industry
In addition to the worm gearboxes used in precision machines (i.e., for end-of-line sorting for ceramic tiles, surface grinding and polishing and brick drying), the ceramics industry also makes extensive use of other types of Varvel gearboxes, such as our RG Series of planetary gearboxes with reduced backlash, RN Series of parallel shaft gearboxes, RD Series of in-line helical gearboxes and our 3-stage in-line bevel helical gearboxes and vertical 3-stage right angle bevel helical gearboxes (RO Series and RV Series respectively).
You can learn more about Varvel products by downloading our brochure.
Finally, we remind you that, in full compliance with the European Directive for the use of machinery or equipment in potentially explosive environments, the products part of the Varvel range are ATEX-version speed reducers, and hence equipment suitable for:
A safe use even in potentially explosive atmospheres
Flammability limits
High-temperature resistance
Would you like to receive specialized advice on Varvel's variable speed drives for your ceramic company? Get in touch with our experts.